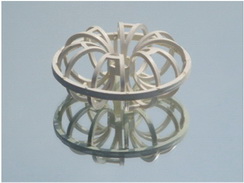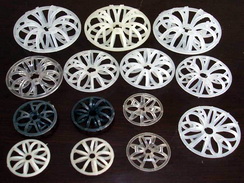 JINTAI Plastic Tellerette Rosette Ring is also named Teller Ring or Rosette Ring which is made up of twelve radial arranged small rings. It is also an economical and versatile industry standard with well known performance characteristics.
Advantages:
Lower pressure, energy, mass transfer efficiency
JINTAI can supply different materials such as polyethlene(PE), polypropylene(PP), reinforced polypropylene(RPP), polyvinyl chloride(PVC), chlorinated polyvinyl chloride(CPVC) and polyvinylidene fluoride(PVDF) based on different application requirements.
Application: Absorption, scrubbing, and stripping services etc.
Technical Parameter of JINTAI Plastic Tellerette Rosette Ring:
Specification
φ

High
mm

Thick number

Num

Num
n/m3

Specific surface area
m2/m3

Void
m3/m3

Bulk Density
kg/m3

25mm

1"

9

1.5*2

5

175000

269

0.82

128

47mm

1.85"

19

3*3

9

32500

185

0.88

111

51mm

2"

19

3*3

9

25000

180

0.89

103

59mm

2.3"

19

3*3

12

17500

150

0.92

72

73mm

3"

27.5

3*4

12

8000

127

0.89

80

95mm

4"

37

3*6

12

3900

94

0.90

88

145mm

6"

48

3*6

20

1100

65

0.95

47
You might have Interest in the following JINTAI TOWER PACKING Product:
CERAMIC RANDOM PACKING PLASTIC RANDOM PACKING
METAL RANDOM PACKING STRUCTURED PACKING
| | | | | | |
| --- | --- | --- | --- | --- | --- |
| | | | | | JINTAI Structured Tower Packing |
| | | | | | JINTAI Pall Ring Packing |
| | | | | | JINTAI Raschig Ring Packing |
| | | | | | JINTAI Saddle Ring Packing |
| | | | | | JINTAI Cascade Mini Ring Packing |
| | | | | | JINTAI Tellerette Rosette Ring Packing |
| | | | | | JINTAI Catalyst Support Media |