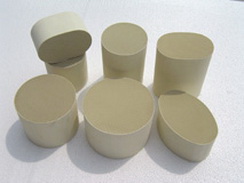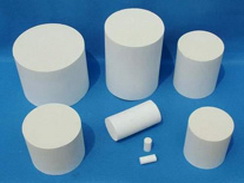 Introduction of JINTAI Ceramic Honeycombs:
JINTAI Ceramic Honeycomb materials function mainly as the catalyst support/carrier, heat exchange media, Ceramic filter plate for cast/foundry and High alumina honeycomb ceramic plate/slice filters for sulfur removal/recovery. JINTAI Ceramic Honeycomb with Cell structure density rangeing from 10 to300cpsi/400cpsi/600cpsi(CPSI means cells per square inch). Ceramic Honeycomb Material are typically available in cordierite, mullite and alumina etc on customer request.
Honeycomb ceramics block available shapes: rectangular, cylinder or ellipse. Cell shapes in square, circle, hexagonal, triangle etc. The specification list in the website is just a part of our available specifications for your reference. JINTAI can also customized the production based on your drawing and samples.
JINTAI Catalyst converter honeycomb ceramics:
As a special kind of chemical reaction device, the catalyst converter is used for the control of automobile exhaust emissions with the ceramic substrate as its key part. Now the world recognized kind is the honeycomb ceramic substrate.
JINTAI Ceramic Honeycomb Substrate used in the catalytic converters have very low thermal expansion coefficient, high specific surface area, low pressure drop, rapid light-off and unique structures. Thousands of cells provide high surface for precious metal catalysts that convert noxious emission into water vapor, carbon dioxide and so on.
Chemical Composition & Physical Properties:
Items

Parameters

Chemical Composition

SiO2(%)

49~51

Al2O3(%)

33~35

MgO(%)

13~14

Wall thickness

(mm)

100CPSI

0.43

200CPSI

0.32

300CPSI

0.30

400CPSI

0.18

600CPSI

0.15

Compressive Strength

(MPa)

A—Cut (Parallel to Channels)

≥8

B—Cut (Vertical to Channels)

≥1.5

Water Absorption (%)

25±2

Coefficient of Thermal Expansion(40-800℃)/℃

0.8~2.0×10-6

Maximum Operating Temperature(℃)

≥1370

Bulk Density(Kg/L)

0.43~0.75

<![if !supportMisalignedColumns]> <![endif]>