JINTAI Metal Cascade Mini Rings(Equivalent to well known Koch Glitsch CMR), JT-MCMR for short, A lower aspect ratio increases capacity and reduces pressure drop and the highly exposed internal and external surfaces give a high efficiency vehicle for liquid – gas contact with good mechanical strength.
Lower aspect ratio (H/D 1/2 to 1/3) increase capacity and reduces pressure drop; JINTAI Metal Cascade Mini Rings, preferential orientation in a packed bed with the cylindrical axis in the vertical plane, allows a free passage for gas to flow through it;
The lower pressure drop and higher throughput of JINTAI Metal Cascade Mini Rings enables a smaller column diameter and fan size to be specified in new installations, The highly exposed internal and external surfaces provide an efficient vehicle for liquid–gas contact, by multiple drip-points;
More resistant to fouling, because a combination of Metal Cascade Mini Rings' vertical alignment and open sides, allow any solids present to be flushed downwards through the packed bed.
Good Mechanical Strength, which allows JINTAI Metal Cascade Mini Rings' use in deep packed beds that have a higher hydraulic capacity.
Applications:
JINTAI Metal Cascade Mini Rings are widely used in desulfurization and decarburization system in compound ammonia plant, decompressed plant in crude oil separated plant, all kind of separation process such as separation of methanol, separation of organic acid, and used in absorb or dis-absorb tower.
Material:
Stainless steel, carbon steel, carbon steel, seeping aluminum, titanium, zirconium and special alloys.
Specification of JT-MCMR:
Specification
D*H*δ

Specific surface area
m2/m3

Void
ε
m3/m3

Num
n
m-3

Bulk density
γρ
kg/m3

Factor
m-1

0P

Φ17xΦ17xH6 x 0.3

427

0.94

530000

472

55

1P

Φ25xΦ22xH8 x 0.3

230

0.96

150000

270

40

1.5P

Φ34xΦ29xH11 x 0.3

198

0.97

60910

201

29

2P

Φ43xΦ38xH14 x 0.4

164

0.97

33170

230

22

2.5P

Φ51xΦ44xH17 x 0.4

127

0.97

17900

186

17

3P

Φ66xΦ57xH21 x 0.4

105

0.98

8800

139

14

4P

Φ86xΦ76xH29 x 0.4

90

0.98

4200

143

10

5P

Φ131xΦ118xH41 x 0.6

65

0.98

1480

136

7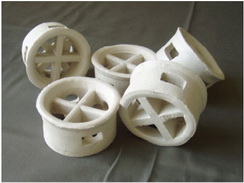 JINTAI Ceramic Cascade Mini Ring high-performance random packings provide significant capacity advantages and lower pressure drop than other random packings. These high-performance random packings have consistently demonstrated capacity improvements of up to 15% in a variety of applications without loss of efficiency. Superior mechanical integrity allows processors to specify deep beds without packing deformation. Both high performance packings are available in several sizes and virtually any metallic material. Cascade Mini Ring random packings are the most advanced random packing designs offered today.
Low Aspect Ratio (1/3 to 1/2 of H/D)- Key to Highest Performance for Mass Transfer. Cascade Mini Ring is the successful third-generation random packing. Since its introduction, CMR random packing has been utilized in a wide variety of distillation, absorption and stripping columns around the world. The superior performance of CMR random packing has been shown in thousands of successful installations. CMR is the random packing of choice for the majority of licensed processes. Among the many random packings available on the market, the PALL-RING has been popular for several decades. Characteristic of the PALL-RING (and most other cylindrical ring-shaped packings) is the fact that the ring height is equal to the ring diameter, i.e., the height-to-diameter ratio is equal to 1.0. The Cascade Mini Ring random packing has an aspect ratio of only 1: 3, i.e., its height is typically only 1/3 of its diameter. Seemingly minor, this change in geometry has a profound effect on the process performance of the packing. Indeed, when dumped in a tower, the "flat" CMR rings tend to orient themselves preferentially in a "near-horizontal" position, i.e., with their cylindrical axis predominantly in the direction of the vapor and liquid flow. This is exactly the opposite of the tendency of PALL-RING (and other high-aspect-ratio rings) to preferentially orient themselves on their "side" (cylindrical axis more horizontal than vertical). Performance of Cascade Mini Ring: This preferential orientation of the Cascade Mini Ring (CMR ring) brings about substantial improvements in process performance:
Lower pressure drop: Having its largest opening predominantly in the direction of the vapor flow allows for easy vapor passage, resulting in lower pressure drop.

Higher capacity: The lower pressure drop moves the operating point farther away from the critical pressure drop at which flooding occurs (typically 1-2 in. wc/ft or 10-20 mbar/m). This means additional vapor/liquid handling capability.

Better fouling resistance: Any solids entering the packed bed are more easily flushed through the packing matrix by the liquid.

Higher efficiency: This preferential orientation of the Cascade Mini Ring (CMR packing) , resulting in most of its surface being positioned vertically in the tower rather than horizontally, is also advantageous for mass transfer. It is important that as much of the available surface area as possible be effectively wetted. The underside of any horizontal surface in the packed bed is shielded from the liquid trickling down and is therefore not effectively wetted. By definition, these dry surfaces take no part in the mass transfer process and are lost.
Substituting PALL-RING with Cascade Mini Ring (CMR ring) will, therefore, result in clear capacity and pressure drop and/or efficiency gains, depending on which option the designer chooses. The high strength-to-weight ratio of the CMR packing allows the use of deep beds while minimizing the number of support plates and redistributors. CMR packing also resists compression making removal easy during turnarounds.

Cascade Mini Ring are available with the material of ceramic, metal, plastic.

Specifications of Ceramic Cascade Mini Ring:
Specification
D*H*δ

Specific surface area
α
m2/m3

Void
ε
m3/m3

Num
n
m-3

Heaping Weight
γρ
kg/m3

25*20*3mm

1"

250

0.75

74000

624

50*30*5mm

2"

150

0.78

8980

600

76*45*8mm

3"

108

0.86

2800

580
JINTAI Plastic Cascade Mini Ring is a kind of advanced packings which is made of heat resistant and chemical corrosion resistant plastics, such as PE, PP, RPP, PVC, CPVC and PVDF. So it is economical and has versatile industry standard with well-known performance characteristics.
Applications:
Absorption and stripping services

Many environmental applications
Performance:
Typical JINTAI Plastic Cascade Ring specifications:
Specification
D*H*δ

Specific surface area
α
m2/m3

Void
ε
m3/m3

Num
n
m-3

Heaping Weight
γρ
kg/m3

Dry packing factor
α/ε3
m-1

16*8.9*1.0mm

5/8"

370

0.85

299136

135.6

602.6

25*17.5*1.0mm

1"

228

0.90

81500

65.2

312.8

38*19*1.2mm

1.5"

132.5

0.91

27200

54.5

175.8

50*25*1.5mm

2"

114.2

0.927

10740

49.2

143.1

76*38*2.6mm

3"

90

0.929

3420

63.5

112.3