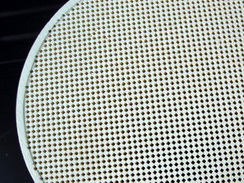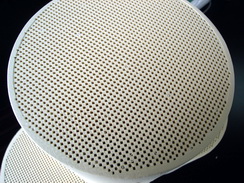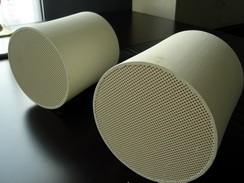 Introduction of JINTAI CORDIERITE DPF:
JINTAI Cordierite Diesel Particulate Filter (hereinafter called DPF) is designed to remove black smoke (soot, hereinafter called PM) form diesel engine exhaust, making great contribution to clean the exhaust gas from diesel cars while attracting much attention from worldwide car manufacturers. In order to satisfy environmental regulations that should become increasingly strict in the future, installation of DPF will be obligated, thus DPF demand will further expand in the future. JINTAI DPF based on the well-known HONEYCERAM technology made of Cordierite, has demonstrated high filtering efficiency of diesel particulate emissions. Applications of this technology include passenger cars, urban and school buses, on highway trucks, mining equipment, and forklift trucks.
Adavantages and disadvantages:
Cordierite wall flow filters The most common filter is made of cordierite (a ceramic material that is also used as catalytic converter support. Cordierite DPF filters provide excellent filtration efficiency, are (relatively) inexpensive, and have thermal properties that make packaging them for installation in the vehicle simple. The major drawback is that cordierite has a relatively low melting point (about 1200 °C) and cordierite substrates have been known to melt down during filter regeneration. This is mostly an issue if the filter has become loaded more heavily than usual, and is more of an issue with passive systems than with active systems, unless there is a system breakdown. Cordierite filter cores look like catalytic converter cores that have had alternate channels plugged - the plugs force the exhaust gas flow through the wall and the particulate collects on the inlet face.
Technical Specification of JINTAI Cordierite Diesel Particulate Filter:
Product Name:
Cordierite Wall Flow Diesel Particulate Filter

JT-CDPF

<![if !supportLists]> 1. <![endif]> Chemical Composition:

SiO2 : 50.9±1%
Al2O3: 35.2±1%
MgO : 13.9±1%

2. Compression Strength Under Normal Temp:

≥10MPa

3. Thermal Expansion Co-efficiency:

≤1.2X10-6/℃

4. Wall Thickness:

0.42-0.50mm(100cpsi)

0.32-0.40mm(200cpsi)

5. Porosity

≥50%

6. Average Micro Hole Diameter:

10-15μm

7. Max Working Temp:

1400℃

8. Carbon Particulates Filtration:

≥90%
Our available size and tolerance:
Size
Diameter*Height
(mm)

Tolerance
(mm)

144×150

144±1.0×150±1.5

144×152.4

144±1.0×152.4±1.5

144×254

144±1.0×254±2.0

150×150

150±1.0×150±1.5

190×200

190±2.0×200±2.0

228×305

228±2.0×305±2.0

240×240

240±2.0×240±2.0

240×305

240±2.0×305±2.0

260×305

260±2.0×305±2.0

267×305

267±3.0×305±2.0

286*305

286±3.0*305±2.0

286*355

286±3.0*355±2.0